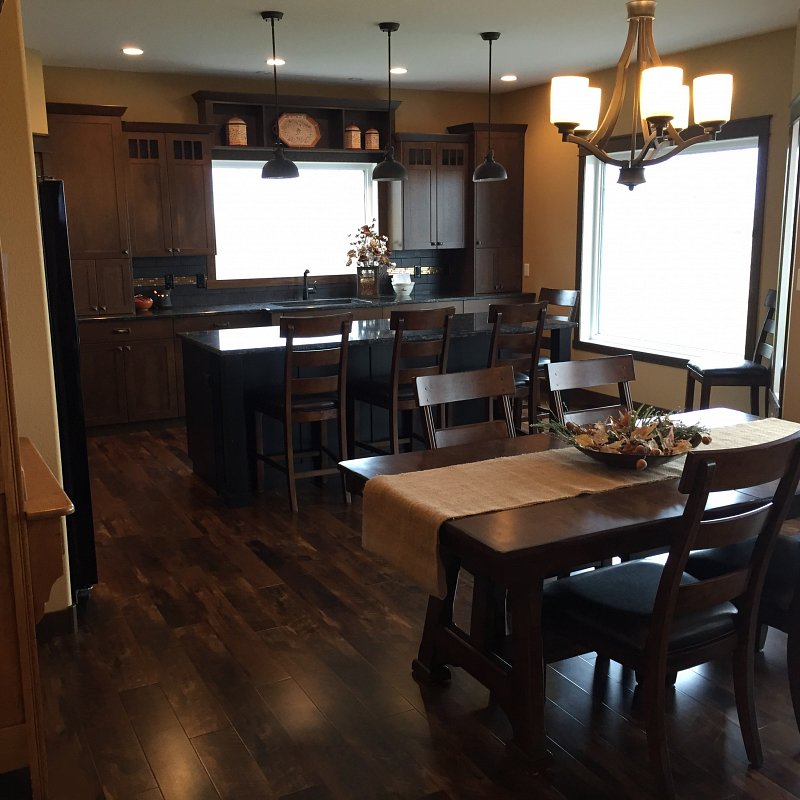 From time to time we get questions on what cleaning tips & products to use when cleaning in your brand new home!
Below are a few which we suggest.
Laminate Flooring
Sweep or vacuum your Laminate floor regularly to avoid built up dust in cracks.
Clean floor occasionally using a mop & Armstrong Hardwood & Laminate Floor Cleaner
Allow floor to dry before walking on as walking on damp floor may cause streaks & marks.
Never use steel wool or abrasive cleaners which scratch your floor.
Tile Flooring:
Sweep or vacuum tile floor regularly
Wash floor occasionally with a mop & Armstrong Once n Done or other tile cleaner.
Our local lumber yard, Border View Lumber, stocks Armstrong Once n Done for cleaning ceramic and vinyl floors. However, any non-residual ammonia based cleaner or vinegar mixture would do as well.
Faucets:
Blot any water dry from faucet surface after use.
Clean with non-abrasive sponge & soft clean cloth to keep product looking beautiful.
Remove water spots with warm water & soft damp cloth.
Never use abrasive cleaners, steel wool, or heavy duty scrub sponges.
Hard water stains can be removed using 50/50 solution of white vinegar & water. Be certain to rinse surface thoroughly with water afterwards.
Windex Original Glass Cleaner can be used for additional cleaning when used according to manufacturers instructions for use.
Cupboards:
Clean cupboards with non-abrasive soap and water mixture. Wipe first with slightly damp cloth then with a clean, dry cloth. Do not leave wood wet for any amount of time, as this can cause warping. Work with the grain of the wood when cleaning and polishing. Always ensure no water is left in any of the cracks.
Fireplace Stone:
To clean dirt or other particles first try a simple soft bristle brush. If necessary use a solution of mild detergent with water and scrub the surface with a soft bristle brush. Rinse with clean water to remove any cleaning solution that might remain on the surface. Never use wire brushes, acid cleaners, power washers, bleach, paint remover or any other type of concrete cleaners.
Quartz Countertop:
Mild soap and warm water is always the best method to maintaining your beautiful new countertops. For difficult to remove grime, try a mild alcohol based cleaner or a Scotch-Brite pad. Diluted bleach can be used, but leave this as a last resort, and be very cautious as not to leave any residue on your top after cleaning.
Our New Home shows it in the quality that you all care about your customers. We have had so many compliments on our new Home, we really enjoy it.

Ken & Vickie Severinson
We are enjoying our Home very much and have received great compliments on your work.

Allan & Joan Whyte
We are thrilled with our new Home, it's a dream come true. Everything we ever thought about in a New Home became reality and we love it. We are so happy with Penner builders and the fine quality of workmanship.

Chuck & Karin Erickson
Our House was beyond our expectations and we are so incredibly happy with it! Penner builders will always come highly recommended from us!

Kyle & Jena Ratz
We love it! It's such a lovely place to wake up each day! As you can imagine, it is a dream come true for our family!

Cindie S. Fugere
I wanted to tell you once again how very happy we are that we had you build our beautiful Home. We never tire of the compliments we receive from family and friend's every time they come here and thought you should know that because you and your company deserve to know how highly you are thought of by all that see your work!

Darin & Jerali Miller
We cannot believe how well our House is built. It was put to the test the beginning of February when we had a snow storm with high winds. The House did not leak any air and when our electricity went out the House held its heat very well.

Meryl & Stacy McGee
We were incredibly impressed with you and your company's professionalism, customer service and product quality. We have heard nothing but positives from people who have worked with you and have Penner Homes and we will continue to recommend Penner builders in the future.

Pete & Vawnita Best
We were very happy with their expertise & friendly advice in making our choices. They were available to us at all times throughout the project. Penner Builders have a great product and are highly recommended.

Gary & Lorraine Lippens
We got our first house from Penner Builders in Oct 2001. We were happy with that house. The quality and layout were what we wanted. Later we added on and went back to John for plans to add on.

In 2013 we started looking for a house again and we went right back to where we had a good experience the first time. Our new house was delivered in Sept of 2015.

Some of the things we were really happy with:

My ideas were brought to reality, I have lots of ideas and John worked with us and helped get them onto the plan, then his workers did great work in getting it into reality.
The attention to detail and quality of work. We asked for a custom stain color and they mixed and tried until it was a good match to the floor. Lovely color!!
The crew was patient with us, it's a big project and nice to know you have someone who cares to guide you through.
We were able to make friends with the crew, and they cared.

When we walk in we still say "Wow!" "Breathtaking!" "Beautiful!" If we ever have to build another house we know where we are going.

Rich & Kerry Lervick
The step was fixed and once again I want to pass on what nice people you have working there. They are always very polite, considerate and professional. We appreciate the quick response.

Stacey Wakewich
If we built another one we would use you guys for sure! Hands down you are a great company.
Just wanted to take the time to thank you again for building this gorgeous home for us! I absolutely love it! Thanks again for everything, John. You and your crew deserve a big "hats off" for the work you have done! I'm amazed at the work you all do and we've had friends in that have said the same thing! I don't want to leave this house when I'm here! Bless you for all you do!

Ed & Nancy Kofoid
We have been in our house about 3 months now. WE LOVE IT!!!! We love everything about it. We have received so many compliments on the workmanship, the woodwork and the looks of the entire house, both inside and out. We are very happy that we chose Penner Builders to build our home. You and your staff were so easy to work with and had so many great ideas. Things we would never have thought of. We would highly recommend Penner Builders to anyone building a house. In fact we already have recommended you to two families, and provided them with your contact numbers etc.

Boyd & Susan Plummer
WE LOVE IT!!!! You helped us with so many ideas and the workmanship is second to none. Our contractor and his assistant commented over and over on your craftsmanship and attention to detail.You were so easy to work with and so helpful. We will highly recommend you to others. We are so pleased! Thank-you for everything.

Boyd & Susan Plummer